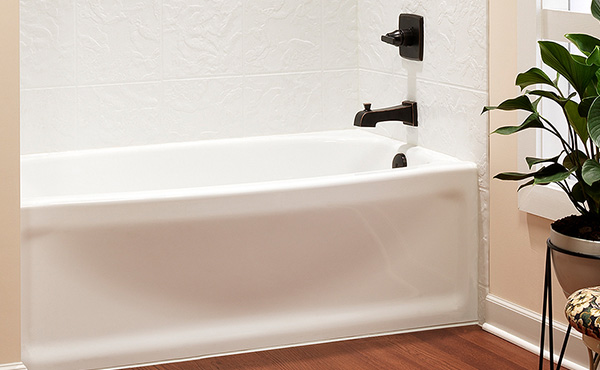 Affordable Bathtubs
Looking for top-quality, budget-friendly bathtubs? Modern Bath Designs has the perfect solution! Our affordable acrylic bath systems are designed with easy installation and complete customization in mind. Since 1999, we've been creating low-maintenance, durable bath products perfect for every home and need. When it comes to top-quality bathroom remodeling, you can trust Modern Bath Designs by Veracity.
Customize your Bathtub
With Modern Bath Designs by Veracity, building the perfect bathtub couldn't be easier. On top of offering one of the largest selections of tub customization options, we make every single bathtub to order. This custom manufacturing process guarantees the right look, fit, and price! Whether your bathroom is small, large, or has a unique configuration, no bathtub size is impossible for us! We can customize the perfect bathtub for your space.
Benefits

of Our Bathtubs:
Benefits

of Our Bathtubs:
Easy Maintenance: With non-porous, naturally mold- and mildew-resistant surfaces, our bathtubs offer simple cleaning.

Style: Our elegant, high-gloss acrylic comes in various colors and patterns to match any bathroom perfectly.

Durable: With stain, scratch, chip, and fade-resistant materials, our bathtubs will stand strong for many years to come.

Quick Installation: Our bathtub units are installed by our certified factory technicians in as little as a single day.

Lifetime Warranty: We stand behind our products and work, which is why we offer our customers a lifetime warranty.
Bath & Shower Styles & Colors
Our bathtub styles range from spacious walk-in tubs to versatile tub-shower combos, with colors and patterns that are equally diverse. You can choose from solid colors, tile-like textures, and natural stone-inspired surfaces.
Tub Skirts
Reach out to us today to discover just how affordable our bath and shower systems can be. Give us a call at (866) 558-4727, or click here for a FREE quote!
What Our Customers are Saying
"Fantastic Job my bathroom looks great!  We had an old ugly bathtub that we converted into a shower, and I love it.   The technicians were great, they did a superb job, and they completed our project in just 2 days."
"I saved money and received a better shower system by going with Modern Bath Designs.  The experience was top notch from the beginning to the end and it was done so fast. My family could not believe it wasn't real granite. We love our new bathroom. Thank you Modern Bath Designs."
"We replaced and older bathtub with a new shower and I am so happy. The technicians were wonderful. They did great work and had it done in just 2 days."