Easy-access
Our accessible walk-in tubs make bathing independence possible for everyone! Whether you have a disability or have mobility problems, taking a bath no longer has to be a dangerous endeavor. Designed with the utmost safety, our walk-in bathtubs replace hazardous tub walls and slippery floors with easy-access doors and comfortable built-in seating.
Request a Free In-Home Consultation
Enhance Your Safety
Did you know that around 3 million senior citizens are treated in emergency departments due to slips and falls that take place in the bathtub? Tubs constitute a significant safety hazard for people with mobility problems, as entering the tub requires stepping over a high threshold. On the other hand, walk-in tubs have low entry thresholds and feature many important safety features, including grab bars.
Enjoy Hydrotherapy
Benefits
Enjoy Hydrotherapy
Benefits
There's no doubt that jetted tubs are relaxing and feel luxurious. However, we can't forget about the important benefits of hydrotherapy. Jets can help relieve the aches and pains of chronic disease while increasing blood flow and promoting your overall health and wellness.
Maintain Proper Hygiene
As bathing becomes more and more difficult with the passage of time, maintaining personal hygiene can become really challenging. When bathing oneself turns from a routine task to a difficult chore, washing yourself can be a major hardship. Fortunately, walk-in-tubs will eliminate this problem by making the bathing process significantly easier and safer. Maintaining proper hygiene shouldn't be an obstacle. Make it simple with a walk-in-tub from Modern Bath Designs by Veracity.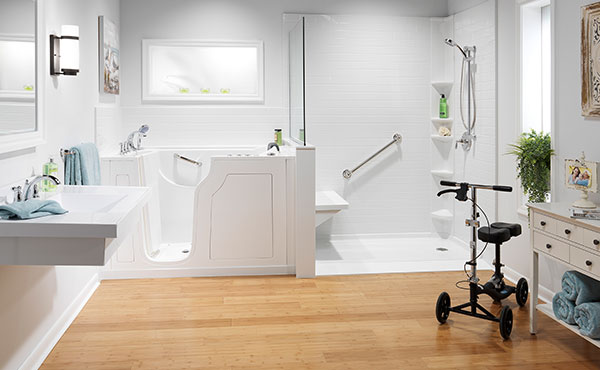 What Our Customers are Saying
"Fantastic Job my bathroom looks great!  We had an old ugly bathtub that we converted into a shower, and I love it.   The technicians were great, they did a superb job, and they completed our project in just 2 days."
"I saved money and received a better shower system by going with Modern Bath Designs.  The experience was top notch from the beginning to the end and it was done so fast. My family could not believe it wasn't real granite. We love our new bathroom. Thank you Modern Bath Designs."
"We replaced and older bathtub with a new shower and I am so happy. The technicians were wonderful. They did great work and had it done in just 2 days."