Our History as Top Door & Window Specialists
A Different Kind of Company
Nearly 100 years of innovation and uncompromising product performance standards: that's the legacy of Marvin Windows and Doors. Marvin is a family-owned and operated company that has always believed in using the finest materials to create exceptional products, then backing them up with first-rate service. Exemplified by recently earning the "Best in Quality" award from Builder Magazine once again, Marvin constantly strives to deliver on the high expectations that homeowners demand of a brand such as ours. As a result, Marvin Windows and Doors has earned a solid reputation for superior quality, fine craftsmanship, and long-lasting performance. The bottom-line is customers trust the Marvin name because it means a quality product backed by service.
Veracity Window and Door is a collection of industry experts who organized to partner with the Infinity from Marvin brand in 2014. We have worked with wood windows and doors, aluminum windows and doors, vinyl windows and doors, vinyl-wood composite windows and doors (also known as Fibrex), fiberglass, aluminum-clad and vinyl-clad windows and doors all throughout Southern California. From the harsh coastal environment all the way to the equally harsh inland climate, we've learned about the true lifespan and overall performance of each window option on the market.
Choosing the right replacement windows or doors for your home can be challenging. We think the more you learn about our experiences throughout Corona, Los Angeles, Riverside and everywhere in between, the easier your decision will become. We encourage you to schedule an in-home appointment today and experience our unparalleled window and door options first-hand.
Experience
It's not just our professional opinion with over 60 years of combined experience down here, or Marvin's century of innovation, it's also valid third-party test results from organizations like the AAMA, the American Architectural Manufacturer's Association, that we take into account. We at Veracity take our role as the area leader in replacement windows and doors very seriously and have made it our mission to accurately consult clients on his or her best options in windows and patio doors, regardless of price. Our goals are usually one in the same – to professionally install durable products that will last a lifetime.
We are proud to say Veracity is the residential replacement arm of Marvin's Infinity Replacement Window and Door line. Our promise is to provide a top-notch, clean and hassle-free experience to each and every one of our customers. Whether it's the interior or exterior style, colors, trim, glass or energy efficiency requirements, our experts will design a solution right for you and your home.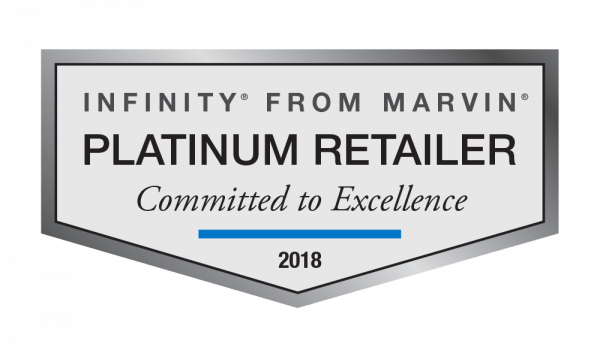 Manufacturer Certified Installation
We are the only authorized Infinity from Marvin retailer and installer in Southern California.
If you choose to partner with Infinity from Marvin by Veracity, you'll have peace of mind knowing that your installation will be performed by manufacturer-certified employees only. By doing the same work every day, installing the same products, we perfect what we practice and we always use the highest quality sealants and materials.
Installing high quality replacement windows and doors is not a "DIY" project. When you purchase Infinity products from us, you are guaranteed that your new window or doors will be installed by professionals whose quality of work meets the high level of installation standards established by Infinity from Marvin. Combine this company feature with the comprehensive Infinity Limited Lifetime Warranty, and it's easy to see how our program takes the risk out of such a potentially large home improvement project. As a homeowner, you are protected from any and all liability starting from the installation all the way to your Marvin products.
Clean & Safe Working Environment
We ensure quality control at every step of the process:
Customers can expect a detailed final measure, or "double-check" for every size project.

Once the final, or critical measure, is completed, your project is submitted online for production review. This production review acts as another set of eyes and makes sure all construction details and design features are accurate and proper.

Once the order is finally submitted, we receive an ETA for your product delivery. At this point we contact you to tentatively schedule the installation day.

Once the product arrives, we review the contents, verifying all parts have arrived and are ready for installation.

Any additional prep work regarding custom trim pieces, painting or staining is completed in our warehouse. (In addition to being a general contractor, we also hold a Finish Carpentry license.)

All windows and doors are safely packaged for transport in the back of our covered box trucks. We do not haul your brand new windows and doors in the back of a pick-up truck.

Upon arrival, the products are again inspected before final installation begins.
What You Can Expect
You trust us with making your home look beautiful and complete. We don't take that trust lightly. Here's what you can expect while working with Veracity Window and Doors.
Setting Up Your Appointment
Within 24 hours of receiving your contact form or phone call, one of our team members will call to discuss your project needs and identify how Veracity Window and Door can best fit your vision and budget.

After learning more about your project, we will set up an appointment to have one of our highly-trained window and door consultations come to your home to do an initial survey and measurements.
Finalizing the Details
During our first visit, your Veracity Window and Door consultant will answer any questions you may have about window and/or door styles, materials, and features. They will also walk you through the window and/or door options they feel best suit your home style and project budget, and maximize your views while upgrading your home.

Once you've selected a window and/or door option that's just right for you, our consultant will do final measurements and prepare a straightforward proposal for you to review. (If you'd like to learn more about our financing options, just ask our consultant!)
Getting the Best Deal For You
Window and/or door replacement or upgrades are a wise investment in not only the value of your home, but also in the energy efficiency and cost-saving potential that will result!

Our proposal will include every cost necessary to complete the project to your specifications. If you have a question about anything, we are here to walk you through what our team has come up with.
Beginning the Project
If you decide after reviewing the proposal that you would only like to move forward with a portion of the window and/or door installation, we are happy to adjust the proposal for you.

Once you're happy with the project cost and timeline, Veracity Window and Door will begin crafting your new window and/or doors.

As your materials near completion, one of our helpful team members will contact you to set up an installation time with our factory trained employee installers.
Installing Your New Addition
At Veracity Window and Door, we always treat our customer's home as if it were the boss's. Our factory trained employee installers will walk through the details of their visit to your home, including what they will be doing and how long you can expect the project to take.

We will lay down protective coverings where needed and do final measurement checks before installation.

As our installers work, they will keep your home tidy and settle for nothing less than perfection.

Once your windows and/or doors are installed, our installation team will do a thorough cleaning of your new additions. We will then walk you through all the features and functions of your new windows and/or doors.
Let Us Know How We Did
Our goal is to provide superior service during every minute of your time with us. We will send you a customer survey to complete after we wrap up your project. Your feedback will help us ensure that our team provides a stellar customer experience in the future!
Standing Above The Rest
Great Install
They replaced a deteriorated 3 X 15 foot high window without chipping a pinch of stucco on the house exterior and did the finish trim on the inside so that it perfectly matched moldings and finishes in our home. They protected all flooring and adjacent surfaces so that there was absolutely no damage. After installation, THEY pointed out a slight flaw in the exterior molding ( that I had not noticed) and returned within just a couple of days to correct this minor issue.
- Sherman E.
Highly Recommended
Awesome quality of windows. The installers were neat and respectful of the work environment. I would definite recommend Veracity for window purchase and installation.
- Fillas T.
Great Job
Great Job Folks, Thanks to the entire crew for a job well done! Our windows and sliding glass door were Manufactured, Transported & Installed by a team of fantastic professionals! The quality of service was excellent and the quality of the product installed is magnificent so far worth every penny! Our home is warm and cozy we are happily saving energy. Peace be with you all.So glad we ran into your marvelous display at the Home Show @ the Victorville, California Fairgrounds
- Miranda D.
Extreme Knowledge
Our salesman and lead installer demonstrated extreme knowledge in the "infinity" line of windows. Installation of four windows went smoothly in one day. They made sure the windows opened easily before they left and were through with cleanup. Thanks
- Peralta F.
Superior Craftsmanship
Jose, Joey, and the whole crew at Veracity Window & Door were great to work with. We got at least a half dozen bids on windows and looked at everything on the market in person and online. I am so happy that we went with Marvin Infinity through Veracity. The quality of craftsmanship was definitely superior to other companies we looked at. My house looks so transformed and we are definitely enjoying our investment.
- Shackleton E.