Home Window Replacement Service area Map
Specializing in Home Window Replacement for all window replacement and door replacement needs. Serving these counties in Southern California.
San Diego County -
Orange County -
Los Angeles County -
Riverside County -
San Bernardino County -
BEST REPLACEMENT WINDOWS
If you have been searching for the best replacement windows in San Diego County, then stop looking. Infinity from Marvin is ranked by JD Powers and Associates 2019 # 1 in appearance, design, and customer satisfaction with window and patio Door manufacturing brands.
I love San Diego County, the beaches, the people, and especially the beautiful homes. When it comes to costal areas like San Diego County homeowners love more open flowing living areas. The best way to open up a home and bring the outdoors indoors is with beautiful Sliding Doors, French doors, and large picture windows.
If you're thinking about window replacement in I love San Diego County you must think about Infinity from Marvin. Infinity from Marvin ULTREX® window frames is not just the strongest frames they are also the thinnest and most beautiful windows you can find.
We have exactly what I love San Diego County homeowners are looking for. Thin, beautiful, strong ULTREX® frames with a triple strength acrylic finish applied to both the exterior and interior frames. Choose from multiple color options or our Everwood wooden window stains, you'll never find a stronger and more beautiful window.
HOW DO I START A WINDOW REPLACEMENT PROJECT?
How is the best way to start a window replacement project in San Diego County?
Whenever we ask any homeowners in San Diego County CA why do you think you need new replacement windows? Homeowners always seem to put a lot of thought into answering this particular question. However, usually after a few hums, I get the same answer "they are old"!
There are three main reasons homeowners want new replacement windows in San Diego County. Better energy efficient windows, they want more peace and quiet, and especially in San Diego County, they want the beautiful look of elegant replacement windows.
Southern California temperatures can change up to 40 degrees in one day. As older windows expand and contract under the Southern California heat and cold climate changes the seals break, cracks become terribly non-energy efficient, noisy, and faded, the once beautiful curb appeal loses all its luster.
ENERGY EFFICIENT WINDOWS
In this day when remodeling companies spring up one day and are gone the next, it is comforting to be able to depend on a window company like Infinity from Marvin. As the # 1 choice for window replacement San Diego County, Orange County, LA County, Riverside County, and San Bernardino County. Marvin Windows has been manufacturing windows in Warroad, MN USA for 115 years. Infinity from Marvin carries on that same great heritage and tradition of excellence in the replacement window industry is the number one choice for excellence.

Infinity from Marvin provides the quality and craftsmanship of the Marvin windows brand combined with the excellent service and experience of the top professionals in replacement windows.
The best windows, the best installation, the best finish, and the best warranty. Our commitment to excellence to you does not end when the installation is completed. From the time our consultant meets with you in your home, through the technician measure, and even after the installation is completed our standard of excellence continues because our windows are truly built for life
ULTREX STRONG AS STEEL
See feel and hear the difference
Don't just take our word for it see how thin and elegant our frames look compared to other companies' bulky thick frames! Infinity from Marvin's windows is designed to be thin and elegant because our customers in San Diego County wants thinner elegant frames with more viewable glass. Our ULTREX® frames are thinner and stronger because they are manufactured with a patented ULTREX® pultruded process that makes are frames as strong as steel and your window replacement project the best in the business.
We go the extra mile
Infinity from Marvin does something no other window manufacturer does. A patented acrylic finish is added during the manufacturing process both to the inside as well as the outside of the frame to prevent the finish from cracking, peeling, chipping or fading. Our windows are built for life, we go the extra mile for Orange San Diego County residences to keep your windows looking elegant and beautiful decades to come.
WHAT HAPPENS TO OTHER WINDOW MATERIALS IN SOUTHERN CA
San Diego County went through the same phase of construction windows as the rest of California. In the 50s wood was the material used for window frames. Wood windows are beautiful and everyone loves the classic look of wooden windows but the weather is hard on wood windows the repainting, maintenance, and upkeep are costly and time-consuming. Homeowners wanted a more maintenance-free window.
The 60s and 70s brought Aluminum frames, aluminum was used because it was stronger than wood plus you never had to repaint and the maintenance was a lot less time-consuming, but no one really liked the look of an aluminum window they were used more for track housing it was an easy product for builders to use but not the most energy-efficient, (remember aluminum transfers heat and cold).
The 80s San Diego County County sold more vinyl windows than the rest of the country. Vinyl was the new material for window frames it was not as strong or kept its true shape like aluminum but it was cheap and easy to mold. However vinyl frames always look bulky, they must be manufactured wider and thicker in order to support the heavy dual-pane glass. Remember vinyl flex's and moves a lot. The glass inside the frame expands and contracts at a 4.6. while the vinyl frames expand and contract at a 30.0. As you can see the vinyl expands 652% more than the glass, the frames pull away from glass, and the seals break and fail.
Ultrex®
San Diego along with So CAL Homeowners figured out pretty fast that vinyl windows lower quality caused the frames to crack, peel, chip, and deteriorate in the summer and winter sun. Vinyl frames just didn't hold up to San Diego County and California's high temperatures.
In the late 90s, Infinity from Marvin started producing the first ULTREX® Pultruded window frames and San Diego County loved it. ULTREX® is the perfect material for San Diego County, it stays to its true fit through the horrible 120 degree days and the cool 25 degree nights. It will not chip, crack, peel and the color will never fade, (Even in Black) Infinity from Marvin ads that extra Acrylic finish to both the inside and outside window frames to keep your finish looking beautiful for decades to come
Combination Frames made from more than one material
In the first part of 2000, some other window manufacturers developed other types of combination material frames made from vinyl and other different materials. The purpose of this was to add other stronger materials to the vinyl during the manufacturing process in order to try to make the vinyl frame stronger. First, they were trying to keep the vinyl frame from expanding and contracting more than the glass that it surrounded. But also to they were attempting to keep the vinyl from cracking, peeling, chipping, and fading.
Some of the manufactures had minimal success with this type of combination window frame. Renewal by Andersen Fibrex material is one company that had some success with this. However, they have the same challenge that other manufactures had. The glass inside the frame expands and contracts at a 4.6. the Fibrex material frames and other combination frames expand and contract at a 16.0. As you can see the combo material frames expands 347% more than the glass, the frames still pull away from glass, and the seals break and fail. Also, combination frames do not have the same protection as Ultrex Pultruded Frames so they still can have the problem with cracking, peeling, fading, and chipping.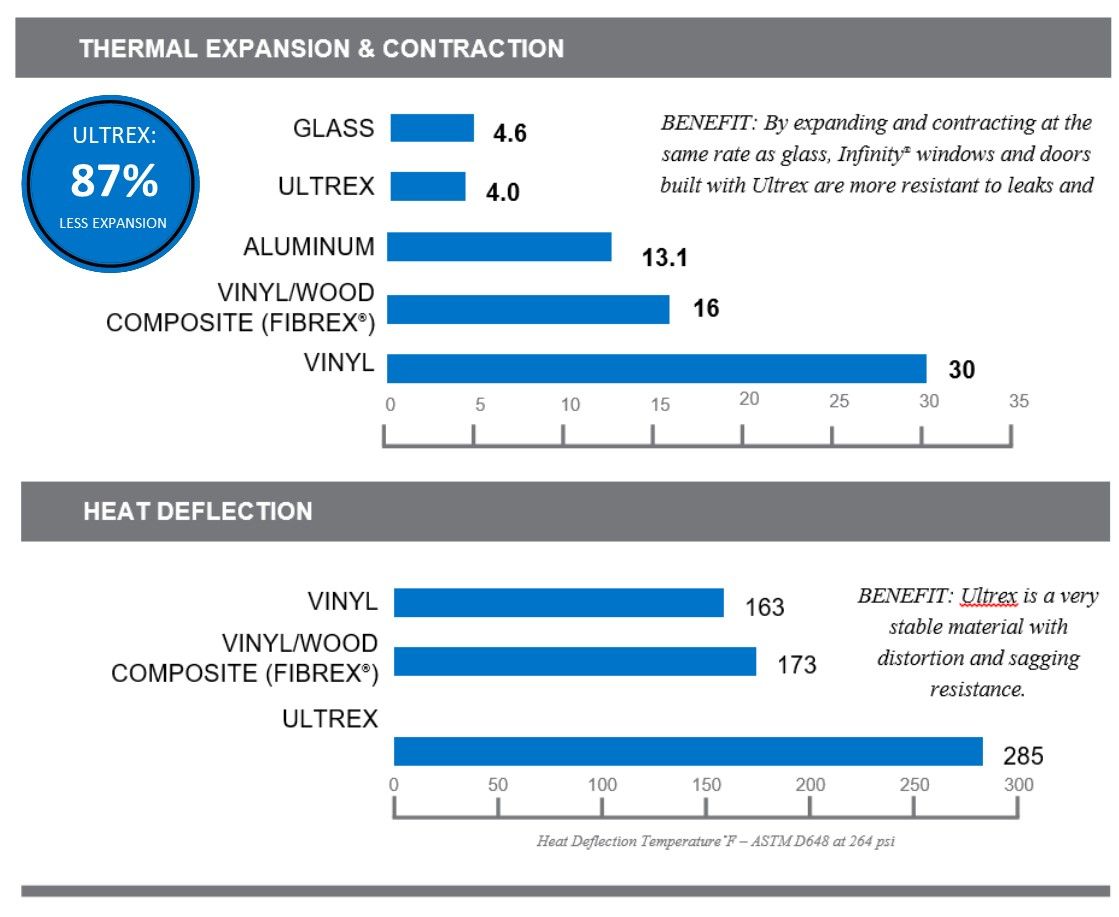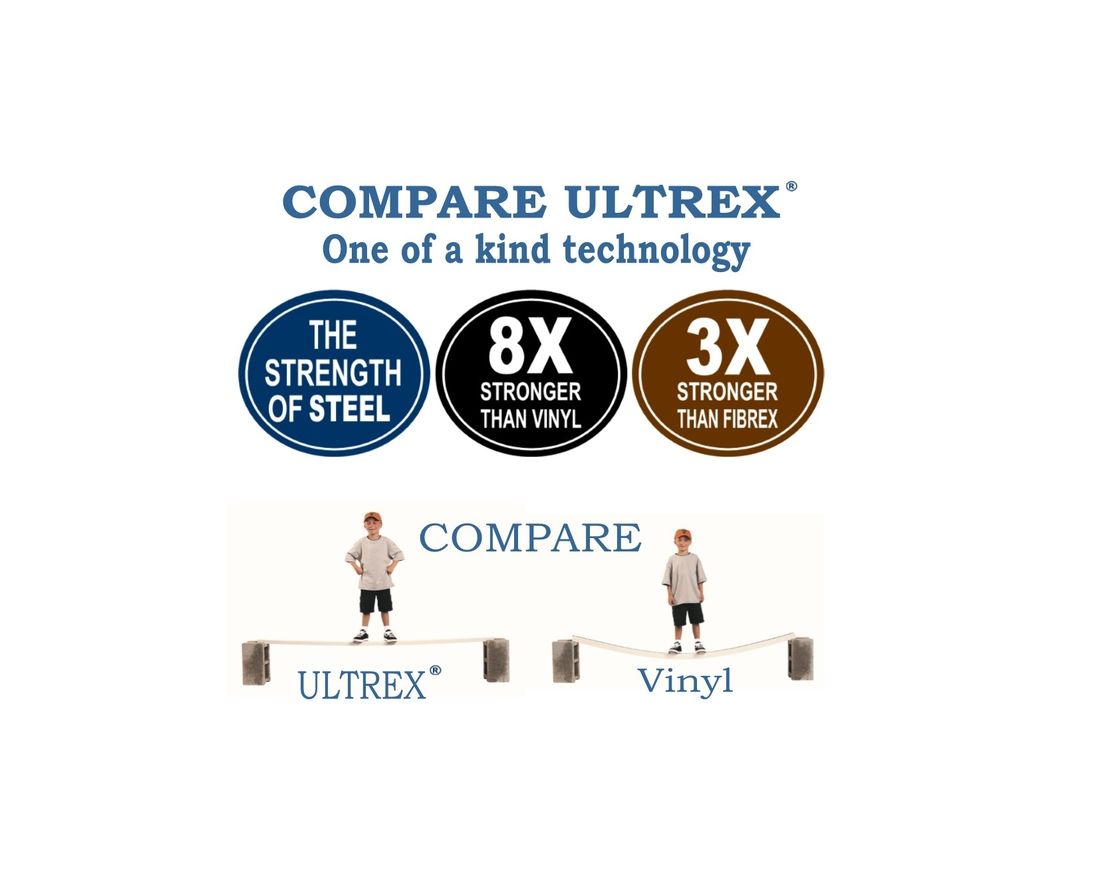 EXPAND AND CONTRACT
Aluminum Frames

Aluminum frames are stronger than vinyl and combination frames but they can't hold a candle to the strength of our ULTREX® frames. Aluminum expands and contracts at a 13.10 while the glass still expands at a 4.6 the Aluminum frames still expand and contract 282% more than the glass, the frames pull away from glass and the seals break and fail.
EVERWOOD
More window styles, more options, more features
From bay windows to picture windows and even custom windows Infinity from Marvin has more window styles, types of windows, more options, and more features for you to choose from. Your choice of 7 different color options are available - Stone White, Sierra, Cashmere, Pebble Gray, Bahama Brown, Bronze, and Ebony. The patented ULTREX® window frames has a smooth, matte exterior finish that protects your windows from the effects of winds, weather, and time.
EverWood, looks feels and stains like wood windows.
Choose from 8 different wood stains or create your own custom stain color. Our breakthrough engineered wood stain interior finish offers natural looks and textures — plus the durability you expect. It looks, feels, paints, and stains like wood but is completely low maintenance. Durable and Long-lasting EverWood is made from an inorganic material, so it won't absorb moisture or decay over time. That means there's virtually no warping, discoloration, material degradation, expansion, or contraction — just remarkably reliable performance and lasting beauty, year after year. Match your existing woodwork or take your home in a new design direction with EverWood