10 Most Frequently Asked Questions About Ultrex Windows
Exciting innovations in home decor and construction have been redefining luxury and altering our views on what is necessary for residential properties.
One of the most significant innovations in construction is the invention of ULTREX® fiberglass windows. Compared to other window frame types, ULTREX® fiberglass replacement windows are superior. They are 8 TIMES stronger than their vinyl counterparts and require much less maintenance than traditional wood. Homeowners choose ULTREX® fiberglass replacement windows when they are looking to upgrade the efficiency and durability of their house windows.
Are you still wondering if ULTREX® fiberglass replacement windows are the best option for your home? We addressed the most frequently asked questions about ULTREX® fiberglass windows below. If you are looking to improve the life and look of your home's windows, the answers we provided will help you determine what should be considered.
The Many Benefits of Fiberglass Replacement Windows
One of the many benefits of ULTREX® fiberglass replacement windows is that they are effortless to maintain. Homeowners love that ULTREX® fiberglass windows don't smell or shrink in different climates and weather conditions as wood does. ULTREX® Fiberglass replacement windows are much stronger than vinyl windows and don't break down easily. ULTREX® Fiberglass as a material is much lighter than wood, and ULTREX® fiberglass replacement windows can come 100% custom made, featuring the broadest range of sizes and colors. ULTREX® Fiberglass replacement windows require a more considerable investment than vinyl windows, but they are usually less than the price of aluminum-clad wood windows.
If you are still trying to figure out if ULTREX® fiberglass windows are the best for your home, check out the frequently asked questions below. We hope that these answers to some basic FAQs can help decide whether ULTREX® fiberglass replacement windows make sense for your home.
How are ULTREX® Fiberglass Replacement Windows Made?
ULTREX® fiberglass windows and patio doors are built with a highly secretive durable, state-of-the-art, patented pultruded fiberglass material with three layers of a patented acrylic capping. No other company in the USA has this patented process and no other company adds three layers of acrylic capping. This pioneering technology benefits from 20 years of proven performance in the field. Making ULTREX® fiberglass 8 times stronger than vinyl and as strong as steel.
What Style and Color Options Do I Get with Fiberglass Windows?
When fiberglass windows appeared in the market, they only came in white or beige. However, fiberglass replacement windows have come a long way. Nowadays you can get fiberglass replacement windows in various colors, styles, and sizes. They have many options if you are looking to match the color scheme of your home. Some add color via film, others via paint, and others offer interiors with wood veneers to greatly expand your decorating options.
How much do fiberglass replacement windows cost?
Replacement fiberglass windows are a great investment. They are not quite as low-priced as vinyl but often less than wood-clad and more durable than both, compounding the savings. There are not as many fiberglass replacement window brands as vinyl ones, and it is interesting how different they are between the different manufacturers. At Veracity Windows and Doors, we install The Infinity from Marvin, one of the most superior fiberglass window products in the market today.
Can fiberglass replacement windows be painted?
Yes, absolutely. With fiberglass replacement windows, you can select your color of choice prior to manufacture. Additionally, our windows provide you with an option to apply your favorite color after installation. However, that color does not have to be your final decision because if your windows are not available in the color you like or if you are remodeling your house and changing its aesthetics, apply a coat of paint when you want to refinish your fiberglass replacement windows in the same manner as you would with wood windows.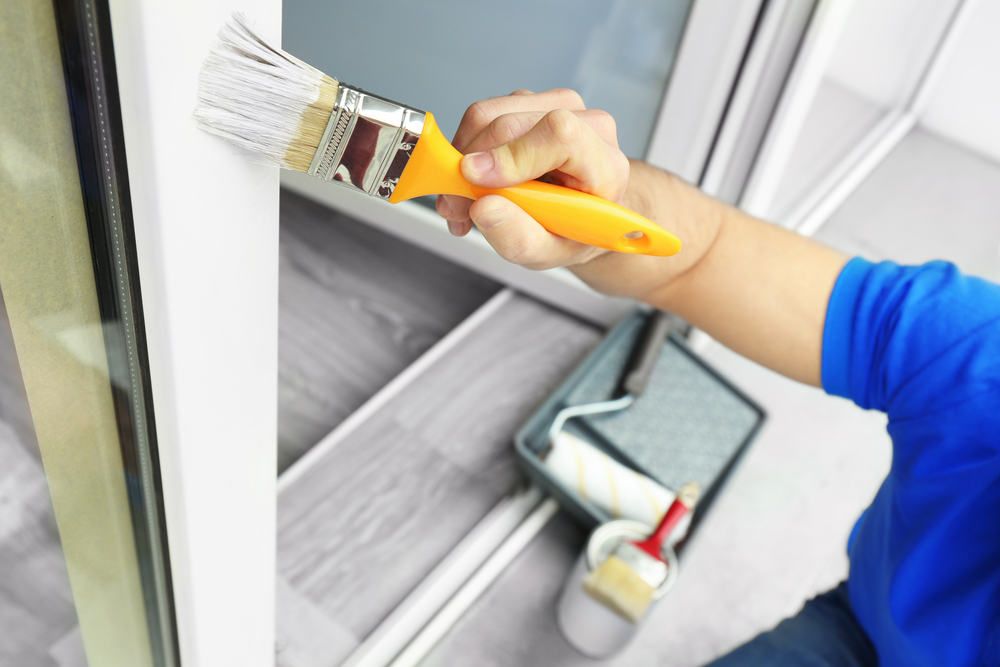 How do you clean fiberglass replacement windows?
No matter the material, it's important to remember to be gentle when cleaning and caring for your replacement windows. Power washers or harsh chemicals can permanently damage the window and compromise its integrity, so they should never be used. Mild soap and water with a sponge do an excellent job of cleaning the replacement window before wiping dry with a soft cloth. We recommend using the same method for both the replacement window and fiberglass windows screens. Here's the link to the detailed care and maintenance procedures from the Infinity by Marvin, our superior window manufacturer.
How long do fiberglass windows last?
Longevity isn't an issue when it comes to fiberglass replacement windows because fiberglass is a material that resists UV rays naturally. Fiberglass replacement windows with a UV coating added will easily last 20 years — and often stay looking and functioning perfectly for over 50 years. Fiberglass replacement windows do not chip or dent as easily as other materials because fiberglass is the most durable window option on the market. They also have the lowest seal-failure rate compared with other replacement window options. It is explained by the fact that the fiberglass replacement windows feature the glass and frame both made from the same raw material. So it is natural that they work together better, expand and contract at the same rate.
How energy-efficient are fiberglass replacement windows?
Fiberglass replacement windows are an extremely energy-efficient option simply because of the durability of fiberglass material. They are manufactured to withstand intense heat and brutal cold. The heat resistance of fiberglass helps your home stay cool in summer and comfortable in winter, making fiberglass replacement windows a perfect choice for California homeowners. Households that replace their old windows with fiberglass energy efficient windows notice a nice difference in the home's utility bills.
Fiberglass Window Material is Stronger Than Vinyl
When comparing fiberglass vs. vinyl windows, our proprietary fiberglass material has superior strength. On average, our fiberglass material is more than 11 times stronger than vinyl and will resist bending and breaking. And our fiberglass is two times more impact resistant than vinyl, a test that shows us how the material is able to withstand a sudden force that could cause breaking. Infinity from Marvin fiberglass windows will resist bending, denting, and breaking for long-lasting performance. This superior strength also means that you can have thinner sightlines, more glass, and bigger sizes.
Are Fiberglass Windows the Best?
If you have read through the frequently asked questions, you now know that fiberglass replacement windows are an amazing option for many reasons. The strength of fiberglass allows for more glass and less frame, which is the most sought-after feature of modern replacement windows. They are unaffected by water and therefore do not swell, corrode, rot or shrink. Fiberglass replacement windows can resist tropical-storm-caliber winds, which is another reason why they are perfect for Southern California, since the extreme swings in weather do not cause fiberglass windows to sag, warp, or expand.
Veracity Window and Door proudly offers Infinity from Marvin fiberglass replacement windows. These superior replacement windows feature an impressive lineup of fiberglass window styles, from casement windows to bow and bay and awning windows. The Infinity from Marvin fiberglass replacement windows carries an impressive lifetime warranty.
If you are ready to upgrade the look and feel of your home, check out our special seasonal offers. Veracity Window and Door offers several special financing deals. We are committed to helping you secure the funding you need so you can enjoy the benefits of better windows right away. California homeowners don't have to be hesitant about fiberglass replacement windows due to cost concerns. Our buy now and pay later specials, including some same-as-cash or low payment options.
If you have more questions about fiberglass replacement windows than what is covered in our frequently asked questions, contact us today for more information and schedule your free in-home or showroom appointment.