DOUBLE-HUNG REPLACEMENT WINDOW
Simple the most Gorgeous Double Hung Replacement Window. Infinity from Marvin replacement windows is Rated # 1 in 2019 by JD Powers and associates in Customer Satisfaction with window and patio door manufacturing brands.
Why our double-hung windows are the BEST?
We make the strongest double hung window replacement frames, with the most elegant finish. Infinity from Marvin windows are made from a Marvin patented pultruded Ultrex fiberglass process that makes our window frames as STRONG AS STEEL 8 times stronger than vinyl and 3 times stronger than other competitors. We add a patented acrylic finish both on the exterior and interior window frames that prevent cracking, peeling, or fading to keep your windows looking beautiful for decades to come.
Our Double Hung Windows are just more Beautiful
Instead of bulky wide and unappealing frames with an unfinished corner, we do it the right way. If you compare our beautiful finish to all other window frames you can see the difference in the manufacturing quality, the gorgeous design, the smooth welded corners, and the ultimate sleek finish. You can choose from 7 color options and 8 wood grain options.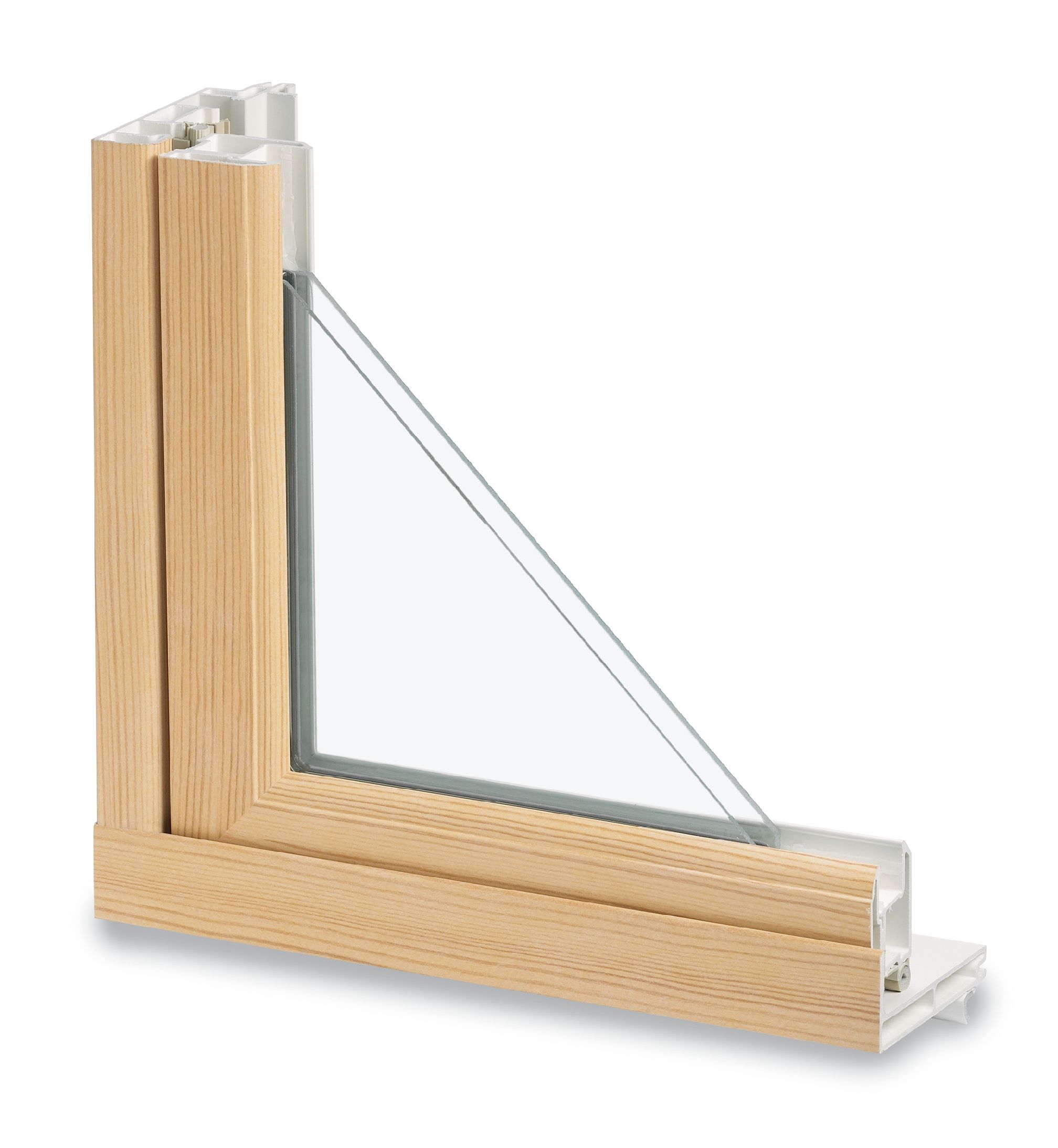 Compare Other Composite Window Frames
You can see from a showroom display model below. This is the Fibrex material which is made from vinyl and wood products mixed together to attempt to make a stronger vinyl window. The bulky unfinished weld job is actually starting to crack in the showroom. Our Ultrex Fiberglass frames are 3 times stronger than this composite frame and 8 times stronger than vinyl.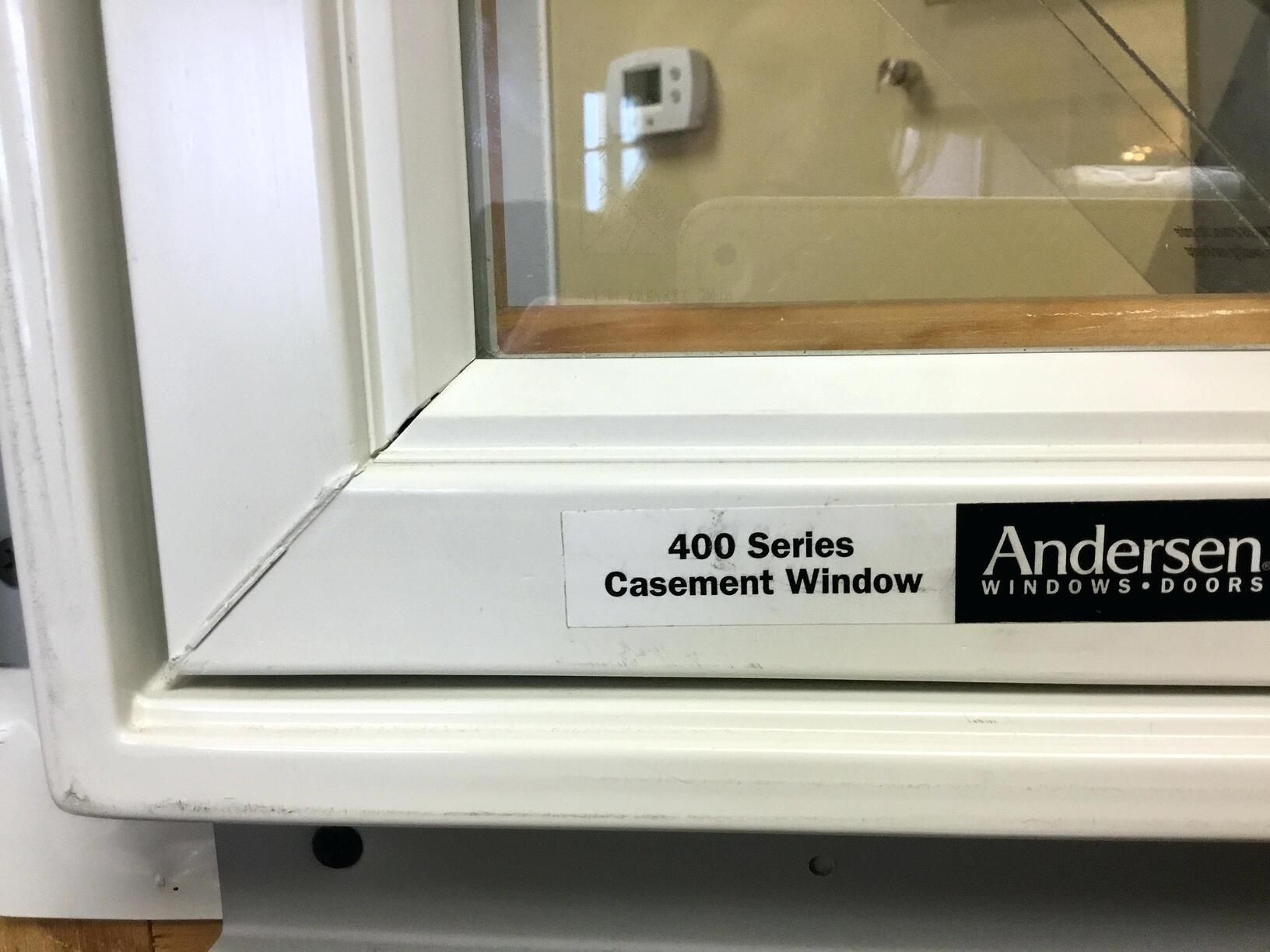 Compare Vinyl Window Frames
Below is a new vinyl window frame photo before the installation. View the bad weld, the bulky frames, and poor finish. This is something you clearly want to avoid.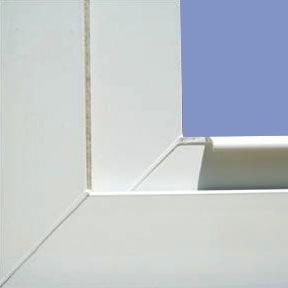 Comparison Chart
References: Stork Technimet/Testing Corporation: #0602-15293, #0512-14889, #0704-19702, #TCT006638P. Precision Measurements and Instruments Corporation: #13043-DS. Tecton: # ESP010521P, "Test Results for Fibrex and Ultrex". Plastics Engineering Handbook of the Society of Plastics Industry, Inc. Fifth Edition. Andersen Fibrex Manual: "A High Performance, High Value Biofiber Polymer Composite Technology". Renewal By Andersen: "Fibrex Material: A Better Alternative, A Better Window". LD = Longitudinal Direction * Highest rate of thermal conductivity shown. Test results range from .10 – .13 for vinyl/wood composite (Fibrex) and .09 – .12 for Ultrex.
DOUBLE HUNG WINDOWS EASY OPERATING FEATURES
If you currently struggle to lift open your single or double-hung windows or have to use a dictionary to keep them propped open, you'll be amazed at the smooth, effortless operation of the Infinity Double and Single Hung Windows. The strength and stability of our Ultrex® fiberglass frame means your new Infinity windows will open and close effortlessly for years to come.
ADVANTAGE OF A DOUBLE-HUNG WINDOW?
Double-hung windows have certain advantages over single hung windows, which have a stationary top sash. Double-hung windows are an easy type of window to keep clean because both sashes tilt in for easy access to the inner and outer surfaces of the glass. Lowering a top sash allows heat to more easily escape from a room. Also, if a window is located directly below a projecting eave, lowering the top sash may still be an option even during rainfall.
Infinity from Marvin's Double hung windows is made from Ultrex pultruded fiberglass. Infinity from Marvin's Double hung windows is made from Ultrex pultruded fiberglass. They are rated 8 times stronger than vinyl and STRONG AS STEEL. The window and frame are made from sand, the most abundant natural resource in the world, no waste, and no byproducts. Highest ratings and highest quality in manufactured brands. Rated # 1 by JD Powers and associates in Customer Satisfaction with window and patio door manufacturing brands for 2019. Our windows are built for life.
When we designed the Infinity Double and Single Hung Windows, we added all the character and traditional details of wood windows — with a sleek frame for contemporary appeal. Thoughtful touches like our easy tilt operation means you'll be able to clean your Infinity Double and Single Hung Windows from the interior of your home
Double-Hung Windows have two vertically sliding sashes that both move up and down, allowing for more air and ventilation on the top. Simply put the window opens and closes up and down instead of left to right like a glider window
DOUBLE HUNG WINDOWS CLASSIC STYLE
The double-hung window style is probably the most classic design of all replacement windows, and it's easy to use. The tilt wash feature where you can clean the outside of the window from inside your home is particularly popular. For spaces that require emergency access, we have a double-hung egress window. You can choose from standard double hung window sizes, custom window sizes, or even twin double-hung windows to fit the needs of the required space.
There are a lot of factors that go into choosing a new window, from the style to how easy it is to clean. It's important to get the right fit for your home based on your particular needs. A double-hung window has two operable sashes that move up and down. The sashes are locked shut with a latch located where they meet in the middle.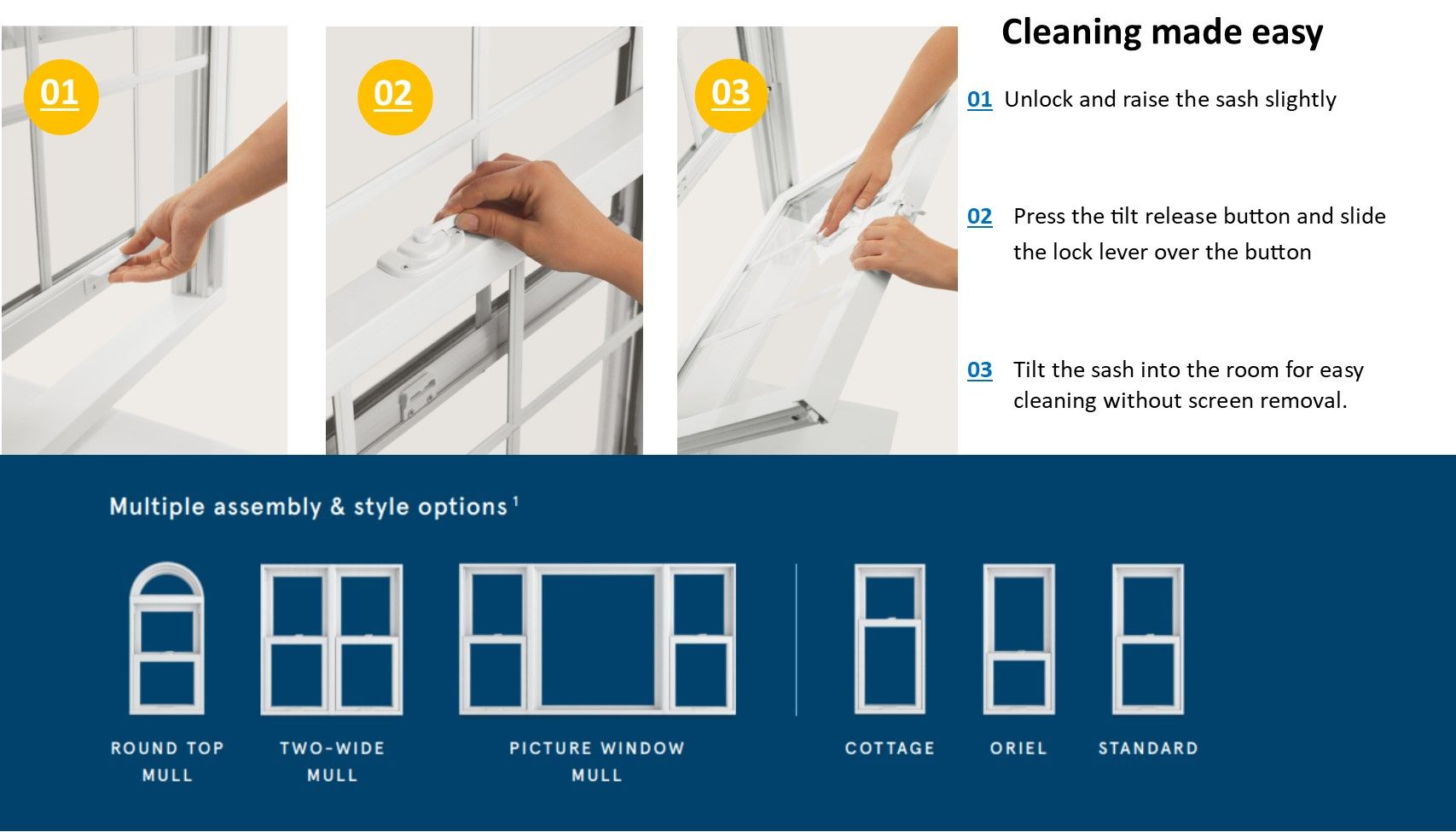 CASEMENT WINDOWS VS DOUBLE HUNG?
When it comes to taller window openings, the two styles of operable windows to choose from are Double Hung Windows and Casement Windows. We'll review the two styles and show you how they compare against each other.
Casement windows open outward like a door on the hinges on the side of the window, using a cranking mechanism. They also allow you to clean the outside of the window from inside when you crank them open fully. The downside to this style is with most other manufacturers the risk of bending the hinges slightly out of shape because of strong breezes or the weight of very large window sashes.
Infinity from Marvin Double-Hung Windows has more advantages in this category because they don't require space outside the window to open and close and because of the higher quality of parts, there's generally no risk of operation mechanism damage.
SLIDING WINDOW VS. DOUBLE HUNG
It can be very confusing trying to figure out which type of windows are going to work best in your home. Since replacing windows is a big decision it's something that homeowners want to be sure of before they make a decision.
Most people aren't exactly sure what the difference is between a standard double-hung window, twin double hung windows double sliding window and a horizontal sliding window except the double-hung replacement window goes up and down and the double sliding window moves left to right. This is just one of the reasons we come out to your home to meet with you. It is always best to ask our professional consultant about designs and options.
THE LOOK OF WOOD DOUBLE HUNG WINDOWS
Match your existing woodwork or take your home in a new design direction with EverWood, our breakthrough engineered wood stain interior finish. EverWood offers natural looks and texture – it looks, feels, paints, and stains like wood — but is completely low-maintenance.
Why choose fiberglass windows over other materials?
Infinity Double Hung Replacement Windows, made of Ultrex® Fiberglass is the smart answer to a traditional favorite. Ultrex® fiberglass frames provide exceptional durability that is as Strong as Steel and 8X stronger than any vinyl window.
Infinity from Marvin is the only window frame that adds a specially patented acrylic finish that is applied during the manufacturing process to both the outside and inside finish providing your windows with lifetime protection.
You'll be amazed at its smooth effortless operation. Infinity from Marvin's quality hardware and advanced design result in a window, that is easy to clean from the interior of your home.
Double Hung Replacement Windows Features
Window opens from the top and the bottom.
Easy tilt operation for cleaning inside and out.
Window is paintable and replicates the sculpted look of a wood window.
Meeting rails are built into the locking mechanism and can be operated by one hand.
Ultrex® fiberglass windows have thicker insulating glass to block out more heat and cold transfer.
"Full" interlocking meeting rails offer a super-tight seal against air infiltration, providing security, comfort and well being.
A true sloped sill channels water to drain to the exterior of the window.
Available in standard, cottage and oriel styles
7 Different exterior colors to choose from including black double-hung windows