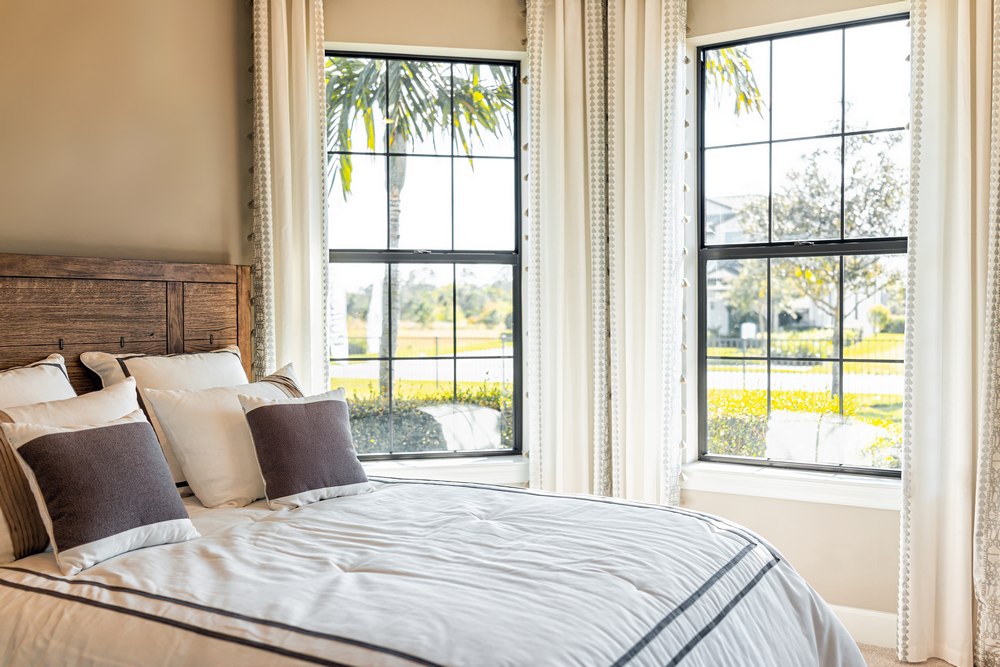 The Perks of Installing Bay and Bow Windows
Bay and bow windows are a great and beneficial addition to any home. They become the focal point of any room and provide many benefits for the appearance and efficiency of your home. This article discusses the perks of installing bay and bow windows to review when choosing window styles for your next window replacement.
1. Increased Natural Light
Bay and bow windows both offer an increased amount of natural light in a room due to their design, which extends out from the wall and allows light to enter from multiple angles. A bay window is typically made of 3 windows – the center is usually a large picture window with two side windows called flankers. These flankers are usually double-hung or casement windows that can be opened for ventilation and airflow. Bow windows are comprised of three or more windows of the same size. Because they protrude out of the side of your home, they are placed upon a curve to get a dramatic three-dimensional effect. Both windows will let in more natural light and enhance your view of the outdoors immensely.
2. Added Space 
Bay and bow windows can create additional interior space in a room. This extra space can be used for things like a reading nook, additional seating area, or even storage. By design, the protruding shape of the windows will make your room appear larger, creating an illusion within the whole space.
3. Addition of a Window Seat 
You can place a seat board at the base of these windows to sit, relax, and enjoy your outdoor views. These bay seats are also a very attractive part of your home's interior. The seat can also be converted to storage space, like a chest with a flip top, that still leaves plenty of wall space under the unit. It is a perfect place to store toys if the window is in a bedroom or blankets, pillows, and board games in a living room.
4. Improved Curb Appeal and Home Value 
Bay and bow windows can significantly enhance the exterior appearance of a home, adding a unique and attractive architectural feature. The windows also increase the value of a home, making them a good investment for homeowners looking to increase their property value.
Bay and Bow Windows from Veracity Window and Door
If you are considering bay or bow windows for your home, Veracity Window and Door is ready to help! We offer a number of bow and bay window configurations that will add more light, space, seats, storage, curb appeal, and value to your home. We offer high-end and high-quality windows and doors then provide exceptional installations so you get the most out of your window and door replacement. Call us at (800) 490-5041, or click here for a FREE quote!